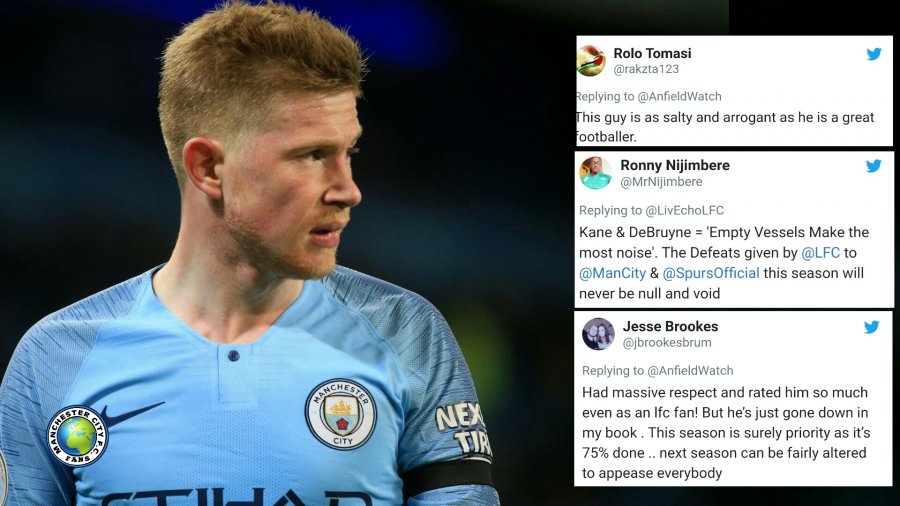 Liverpool fans on Twitter have been responding to the latest comments from Manchester City midfielder Kevin De Bruyne that the current Premier League might have to be ended early due to the coronavirus crisis.
Liverpool are sitting top of the table, 25 points ahead of Manchester City in the standings, and would end a 30-year wait for a league crown by winning just two of their remaining fixtures.


De Bruyne believes the current campaign might have to be scrapped to avoid injuries to players and disruption to next season's calendar.


"I have no idea if we will still play," De Bruyne told VTM (via HLN ). "Also in England they want to wait as long as possible with a decision.


"But as a footballer that is not evident. You are idle for six weeks, normally you need a preparation of three to four weeks. If we restart immediately, everyone will be injured after a few games. That cannot be the intention."


Liverpool fans aren't pleased and were quick to have their say in response to De Bruyne's comments given their current position in the table.
He wouldn't be saying that if City was top. Fact.

— Jim (@JimWotton_1) April 2, 2020
And if this situation had occurred last season when City were on top, would he be saying this!??

I doubt it!!

— Redman 🇬🇧 (@mport343) April 3, 2020
Clown wouldn't be saying anything city had any chance of catching us – Mind the gap !!

— Tom Cullen (@cullentomok) April 3, 2020
It's simple , if city were in our position de Bruyne wouldn't be opening his mouth

— garymccann (@garymccann3) April 3, 2020
Kane & DeBruyne = 'Empty Vessels Make the most noise'. The Defeats given by @LFC to @ManCity & @SpursOfficial this season will never be null and void

— Ronny Nijimbere (@MrNijimbere) April 2, 2020
He lose my respect and what he is talking about Is pure Hypocrisy,Why should he thinking about next season when this season is allmost done.

— Janadoon (@janadooon) April 2, 2020
Had massive respect and rated him so much even as an lfc fan! But he's just gone down in my book . This season is surely priority as it's 75% done .. next season can be fairly altered to appease everybody

— Jesse Brookes (@jbrookesbrum) April 2, 2020
Funny how selfish these guys are… if it were their team in our position on the table they'll push for the remaining games be played behind closed doors… E pain them.

— Seereal (@cyrilike) April 2, 2020
What do we think?
It's easy to see why these Liverpool fans disagree with De Bruyne's comments.They have had an amazing season and it would be a shame if the league get canceled. I'm a blue but we shouldn't deny clear facts, but I've got mixed feelings about this 😅
Follow Us on Social media: